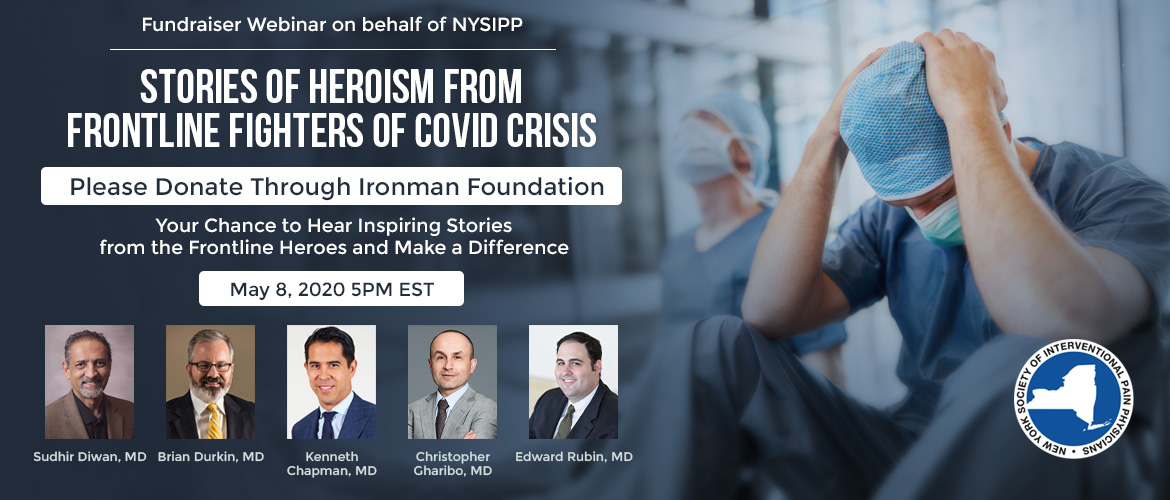 Join us as we hear from some of front line heroes in New York as they tell us about their experiences battling Covid-19.
For this webinar, we are raising money for the a great charity, the Ironman Foundation, that will direct funds to those in need here in New York. We know times are tough now, but they are going to get better soon! Please reach down deep in your pockets and contribute what you can in honor of our front line heroes who have gone above and beyond their call.
Brian Durkin, MD
President of NYSIPP
Sudhir Diwan, MD
Executive Director of NYSIPP
Welcome and thank you for visiting the home of the New York Society of Interventional Pain Physicians.
Please consider joining us in our efforts to improve access to advanced pain medicine solutions, by becoming a member, by attending our regularly scheduled events and by donating to our Political Action Committee.
NYSIPP is devoted to educating our fellow practitioners.  Our annual meeting highlights the latest advances in pain management and neuromodulation presented by the some of the top names in our field from around the country.
Learn More About NYSIPP
Our meetings would not be possible without our industry partners and their generous contributions.  If you would like to contribute to NYSIPP or be a sponsor for one of our upcoming meetings, please click on the link below to find out more.
Read More About Participating